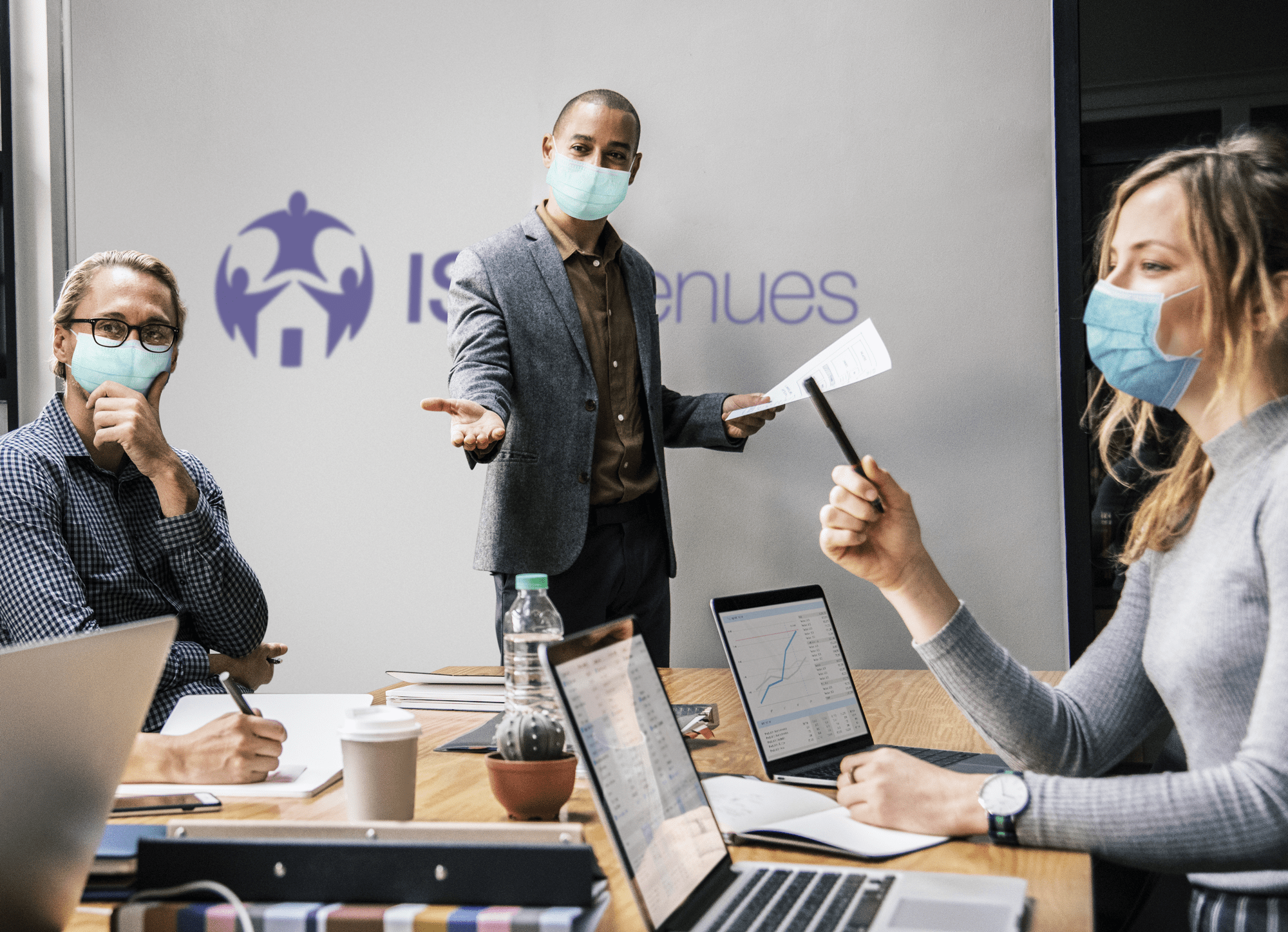 16 Mar

Can we hold events yet?

In a statement to the House of Commons on 22nd February, Prime Minister Boris Johnson laid out how the UK will emerge from lockdown. Here's what it means for events:
All being well, all events will be allowed by 21st June

Large indoor and outdoor events should be able to resume from the the 17th May (with limits on capacity)

Events will be allowed gradually as part of a "4 Step" rollout for the country

In-person meetings for work, training or education purposes can take place now, but only if entirely necessary, and if the venue can demonstrate it has followed 

COVID-19 guidance
Below is a timeline showing the key dates affecting events in England (there will be separate plans set out for Scotland, Wales and Northern Ireland). We'll keep this post updated with further details as they emerge. 
THE FOUR STAGES
STEP 1: 8 MARCH, 29 MARCH
Events updates (effective from 8 March):
Funerals of up to 30 people

Wakes and weddings up to 6 people



STEP 2: 12 APRIL (EARLIEST)
Events updates:
Funerals of up to 30 people

Wakes and weddings up to 15 people (in venues that are permitted to open)

Drive through performance events allowed

Event pilots begin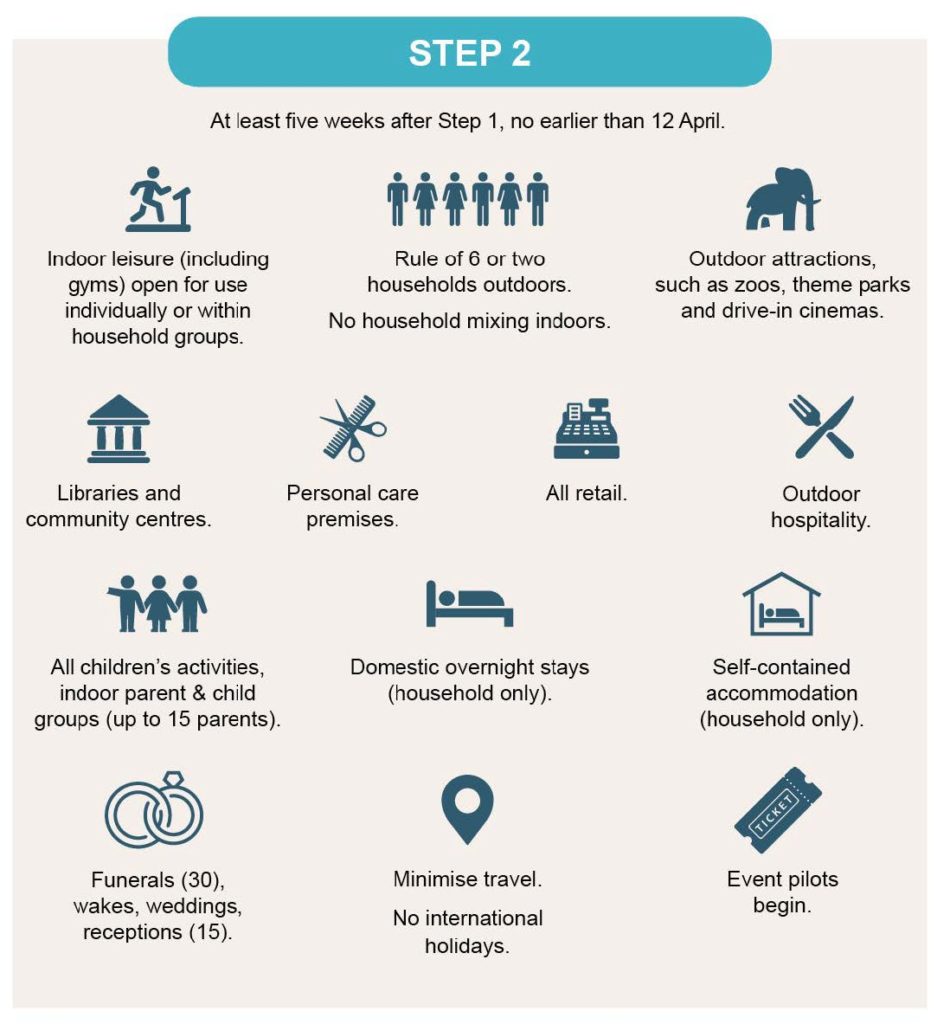 STEP 3: 17TH MAY (EARLIEST)
Events updates:
Most significant life events allowed (30 pax)

Remaining outdoor entertainment (including performances)

Some larger events allowed:
1. Indoor events, 1,000 pax or 50% of capacity
2. Outdoor events, 4,000 pax or 50% capacity
3. Seated outdoor events 10,000 or 25% capacity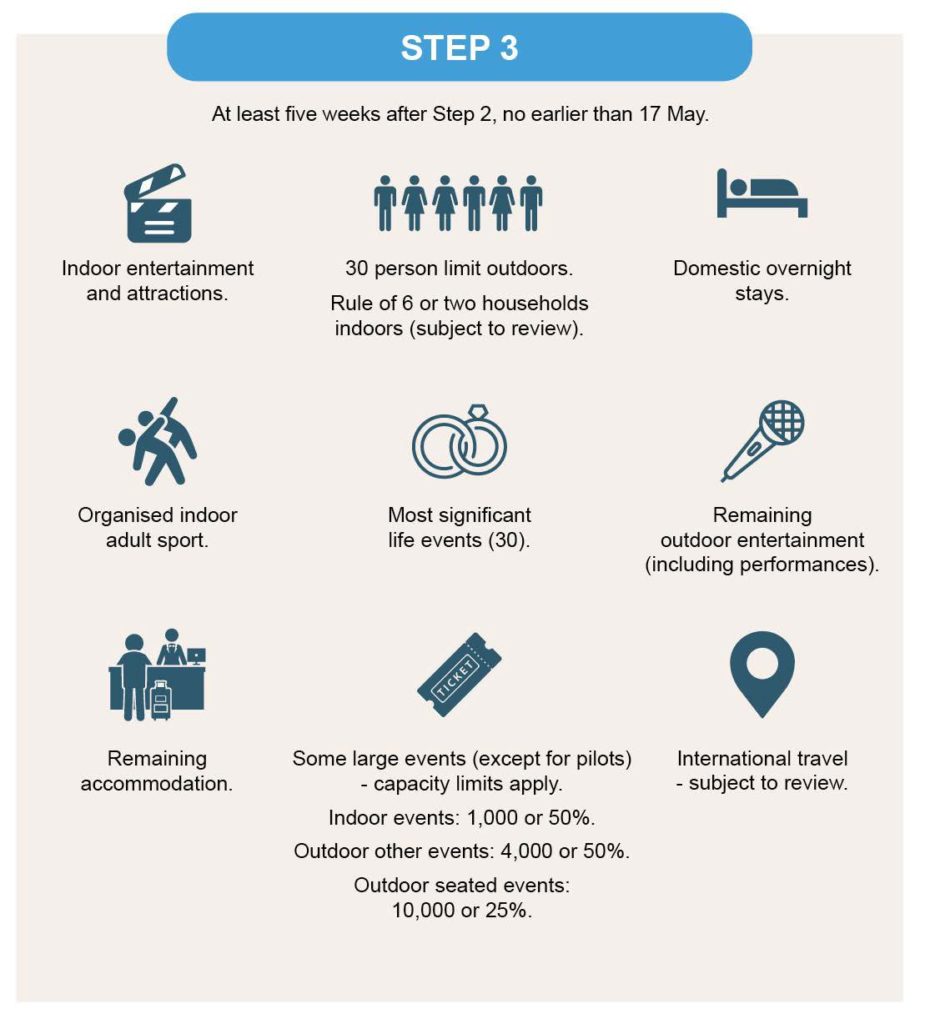 STEP 4: 21 JUNE (EARLIEST)
Events updates:
No legal limit on life events

Larger events
THE FOUR TESTS
Before taking each step, the Government will review the latest data on the impact of the previous step against four tests. The tests are:
The vaccine deployment programme continues successfully.

Evidence shows vaccines are sufficiently effective in reducing hospitalisations and deaths in those vaccinated.

Infection rates do not risk a surge in hospitalisations which would put unsustainable pressure on the NHS.

Assessment of the risks is not fundamentally changed by new Variants of Concern.
EVENTS RESEARCH
The Government has been working with representatives from industry and civil society to explore when and how events with larger crowd sizes, less social distancing or in settings where transmission is more likely (i.e. indoors), will be able to return safely. This includes sports events, music festivals and large weddings and conferences.
The Government will run a scientific Events Research Programme in the spring, including a series of pilots using enhanced testing approaches and other measures to run events with larger crowd sizes and reduced social distancing to evaluate the outcomes. The pilots will start in April.
SOCIAL DISTANCING
Ahead of Step 4, as more is understood about the impact of vaccines on transmission and more people have been vaccinated, the Government will review social distancing measures. This will help inform decisions on the timing and circumstances under which rules on 1m+, face masks and other measures may be lifted. The review will also inform guidance on working from home – people should continue to work from home where they can until this review is complete.
MAINTAIN SAFE BEHAVIOURS
Meanwhile, here's a reminder of the behaviours to follow to keep the R rate down. We all have our part to play in reducing the transmission of covid.
USEFUL LINKS
Health Protection (Coronavirus, Local COVID-19 Alert Level) (Medium) (England) Regulations 2020″ (SI 2020/1103). https://www.legislation.gov.uk/uksi/2020/1103/made
The Health Protection (Coronavirus, Restrictions) (No. 2) (England) Regulations 2020 https://www.legislation.gov.uk/uksi/2020/684/contents
PM press conference statement: 9 September 2020 https://www.gov.uk/government/speeches/pm-press-conference-statement-9-september-2020
Coronavirus (COVID-19): Meeting with others safely (social distancing) https://www.gov.uk/government/publications/coronavirus-covid-19-meeting-with-others-safely-social-distancing/coronavirus-covid-19-meeting-with-others-safely-social-distancing
Coronavirus outbreak FAQs: what you can and can't do https://www.gov.uk/government/publications/coronavirus-outbreak-faqs-what-you-can-and-cant-do/coronavirus-outbreak-faqs-what-you-can-and-cant-do
The Health Protection (Coronavirus, Restrictions) (Bolton) Regulations 2020 https://www.legislation.gov.uk/uksi/2020/974/pdfs/uksi_20200974_en.pdf
The Health Protection (Coronavirus, Restrictions) (England) (No. 3) Regulations 2020, Section 5, Statutory Instrument No. 684, 4th July 2020 https://www.legislation.gov.uk/uksi/2020/684/regulation/5
The Explanatory Note to The Health Protection (Coronavirus, Restrictions) (England) (No. 3) Regulations 2020, 4th July 2020 https://www.legislation.gov.uk/uksi/2020/684/pdfs/uksiem_20200684_en.pdf
The Health Protection (Coronavirus, Restrictions) (England) (No. 3) Regulations 2020, Statutory Instrument No. 750, 17th July 2020 https://www.legislation.gov.uk/uksi/2020/750/contents/made
Working safely during coronavirus (COVID-19) The Visitor Economy https://www.gov.uk/guidance/working-safely-during-coronavirus-covid-19/the-visitor-economy
Working safely during coronavirus (COVID-19) Performing Arts https://www.gov.uk/guidance/working-safely-during-coronavirus-covid-19/performing-arts