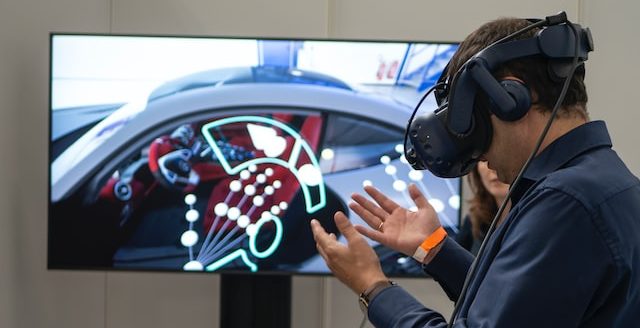 20 Sep

6 Technology Trends Changing the Events Industry

The global pandemic had a significant impact on the events industry. Considering social distancing and lockdown norms, the past two years have seen a faster and heavier reliance on technology, with more and more organisations embracing online platforms, to provide unique and realistic event experiences, event planners had to use virtual event platforms. Studies show that the year 2020 witnessed a 290% rise in the number of virtual events hosted all over the world compared to 2019. But with new event technologies emerging constantly, how do you know which ones to consider?

Here is a list of 6 events industry trends to look out for in 2022-2023.

Live Translation
Through the rise of virtual events, planners have been able to extend their reach and scale their events to a wider audience. However, one of the most challenging factors to overcome is the language barrier.
Until now, event organizers had to rely on third-party interpreters to host their meetings and events. Moving forward, we'll likely see an increase in live translation tools for digital events that will truly make companies global.
Virtual and physical event venues can gain a competitive edge by offering live translation as part of their events package. They will also be able to partner with event planners in areas of the world they normally wouldn't reach.
Event technology platform Hopin offers real-time language interpreting directly within their live streams through their partnership with Interprefy.

QR codes
If you've been in a restaurant in the past year, you've likely seen these codes replace menus and other reusable paper goods.
Another reason for the QR code success? They do not require a third-party app to scan them. Smartphones now have access to QR codes through the built-in camera function. QR codes are fantastic design additions to physical marketing tools such as event flyers, speaker business cards, and postcards for event ticket leads. QR codes even provide a seamless way to organize event registrations. Event venues can add QR codes as germ-free way to connect planners with attendees. Offer venue maps, event check-ins, brand experiences, and more, all through QR codes.

Virtual reality
VR allows event planner to organize events worldwide creating virtual venues and avatars to allow interaction between the participants. VR events saves cost, puts attendees in distraction-free environments, and reduces the risk of spreading illness.
Event planners will have more platforms to engage attendees with. VR headsets aren't quite household items yet, so this may be out of your budget. However, this may change as interest and need grow in the coming years. For now, consider adding a VR component for VIPs who can't travel or as an add-on experience to your digital events. Event venues will want to feature VR headsets as an option for rentals to increase profits.

Holograms
Holograms can be used to dazzle attendees, educate potential partners, and demonstrate products to buyers in ways not many people have seen before. According to Event Works 4D, a leading video production house in Ohio, they provide "3D holographic mixed reality displays, life-scale holographic presentations, and immersive holographic speaker support" for events large and small.
This is one of those event technology trends that has many uses. From celebrity commercial endorsements to award shows to life-size product imaging, the only limitation is your own creativity.
The best part about holograms for event venues is that they fit nearly any venue type, size, and location. The units themselves are typically self-contained and come with all the audio and visual tools you'll need to run the hologram. They can be used for both permanent and temporary installations.

Digital photo booths
Photo booth technology has rapidly changed over the past few years. No longer do you need to a lug around a bulky box and limit yourself to a few backgrounds. Today's photo booths are the size of an iPad, come with animated overlays, GIF's and anytime, anywhere mobility.
Event venues can offer even more ways planners can engage attendees at in-person and hybrid events. Spaces inside buildings such as hotels can also impress visitors of their own with branded experiences in between events. Use virtual photo booths to snap branded photos, GIFs, Boomerangs, and short videos of attendees both in-person and online. This increases branded channel engagement. It's also useful for improving organic SEO when paired with auto-generated captions and event hashtags.

Digital event invitations
While most know the purpose of an invitation, digital invitations have come a long way in the past few years. Where once a Google Calendar or Outlook invite was your only option, several sites now offer digital invitations with increasing options for customization and other features that can be a huge help for event planners.
Event planners can bring a sense of formality to corporate events and upscale private events using digital invitations. They're also great for engaging and upselling guests before they arrive at the venue. Digital event invitations also make RSVPs and meal preferences easier to capture.