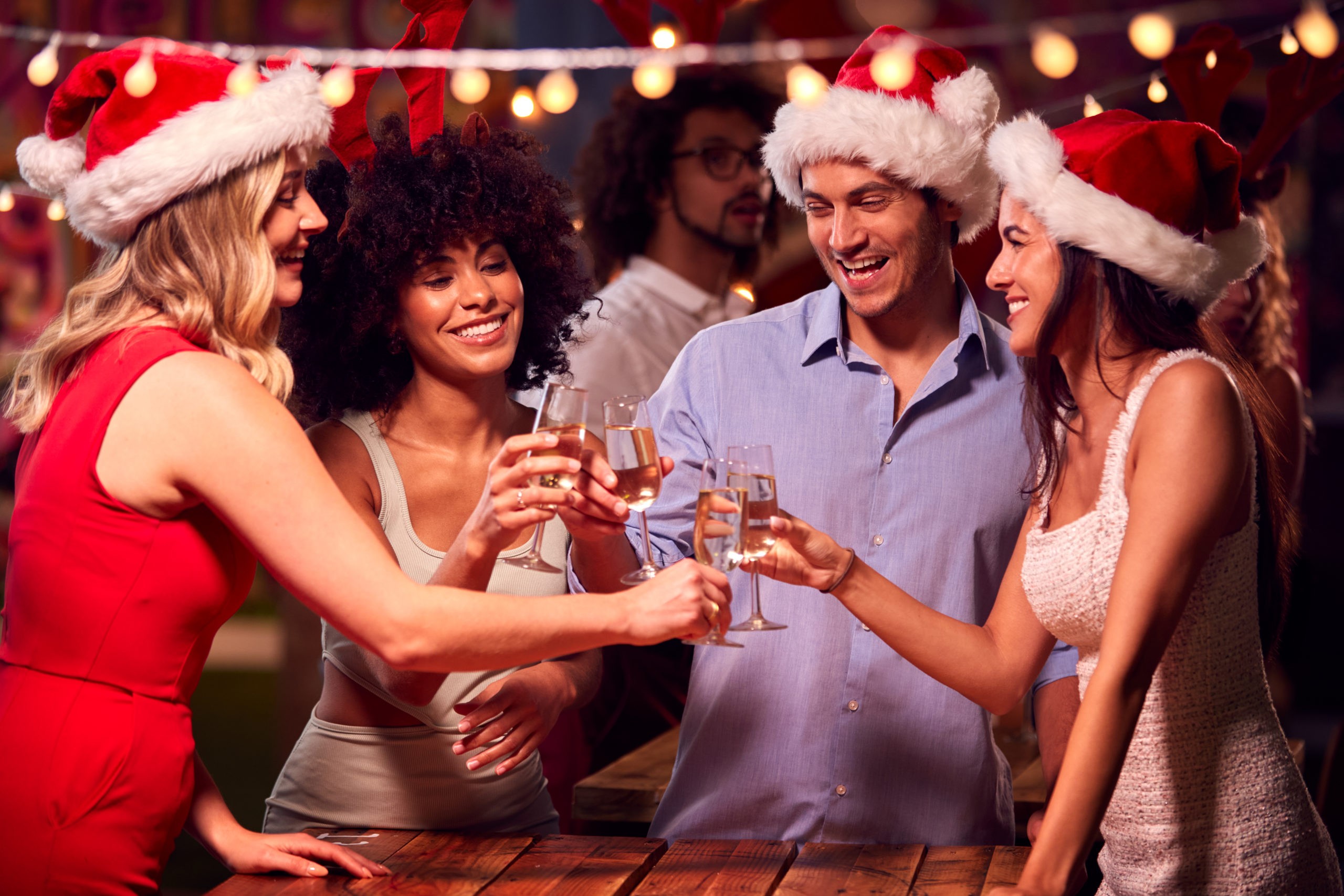 02 Nov

6 Tips to Plan a Christmas Party

November starts and London starts preparing for Christmas. Lights and decorations start to pop up all over the city and we start to get ready for the busiest season for events. If you haven't started planning your Christmas party yet or need a little guidance, don't worry here are six tips for easy Christmas party planning.

Select a time and date

Christmas is a busy period, the busiest of the year for many people when it comes to social events, so diaries fill up fast. That means you want to get a date pencilled in as early as possible. Start by checking what else is already happening around your preferred date and be as flexible as you can. By keeping an eye on social media and speaking to people from your target audience, you can avoid dates when people are likely to be booked up. It's better to change your date at this stage than to clash with another event later on.

A daytime Christmas party is perfect for younger children who need to go to bed early or older people who want to get home, but it's probably not ideal for students who like to party late. For the office Christmas party, people might prefer a weekend or evening event where they can let their hair down and have a lie-in the next day.

To ensure a good turn out I recommend sending a 'save-the-date email to everybody as soon as you've decided. At this stage it doesn't matter if you don't know any details about the party, it's more important to get as many people to the event as you can. To make life easier you should also request information on any special dietary requirements or allergies that you'll need to consider when selecting menus.

Budget

The size of your budget will ultimately have a huge impact on the type of Christmas party you organise, determining everything from the food and booze to the entertainment and choice of venue. Find out how much money you have to spend. You need to know this as early in the process as possible, so you don't start planning something that you can't afford.

The venue is likely to be your biggest cost and can vary enormously based on location and the type of venue. Also, think about where you want to allocate the budget. Do you want to treat your attendees to champagne or is prosecco acceptable? Do you want lots of entertainment or is it all about dancing? Don't forget to consider the dietary requirements of your guests. Always offer vegetarian and vegan options and ask your guests about any specific needs like allergies. Don't forget to provide low-alcohol and alcohol-free drinks too. Sharing ingredients and menu ideas with virtual guests will make everybody feel included.

Venue

While the right location can make your event, remember that size also matters when it comes to the venue. Too big and there's no atmosphere, too small and guests feel overcrowded.

Location, price, catering options, and aesthetics are also key factors. The style of the venue makes a huge statement about your company – if you want to be seen as cool and edgy then there are plenty of blank canvas spaces that make that statement.  Alternatively, if you want to appear established then a stately home or function room in a traditional hotel would be a better choice.

According to your needs, you must identify the most suitable venues that have availability, are within budget and are easily accessible for guests.

Other important venue considerations include:

– Does the venue have its own sound system?

– Is there a dance floor?

– Will the venue be exclusive to you?

– Is the venue easily accessible, and easy to access by public transportation?

– Does the venue have a dedicated event manager to support you?

– Does the venue have disabled toilets?

Before signing anything make sure you check back through the quote and ensure it includes everything you require and that there will be no hidden charges.

Theme

Although having a theme is not the most essential element of any party, it will help build excitement pre-event and can be taken through all elements of the party from the invitations, and the styling of the venue to the entertainment, catering, and dress code. Some popular ideas include traditional Christmas, Vintage, Christmas jumper, and PJs party, quintessentially English, pantomime, circus, Chicago jazz, Winter Wonderland, Ballroom, Film inspired, Spy, Caribbean, and Santa's workshop.

Make a list of anything you would associate with the chosen theme. When doing this consider every stage of the event. This should include physical focal points such as the entrance, the bar, table centres, and unique features in the venue, as well as the different stages of the party, for example, arrival, reception drinks, dinner, after-dinner dancing, and drinking. You also need to account for any other elements of the festivities that can be included in the theming, such as dress codes for the guests and staff, choice of music, food and drink menus, and any outdoor areas.

The Menu and Drinks

Food is a key part of any party and can easily be incorporated into the theme you choose. Don't feel like you have to stick with turkey, especially if you're planning to eat at a venue with a specialist restaurant. The menu can make or break any event; too little food for example, and you're going to have people complaining or going away feeling as though you've scrimped on the budget. You also must consider people's dietaries, so make sure you research your guests' requirements and make sure there is plenty of choice for everyone.

Depending on what type of venue you have chosen you will need to decide between using in-house catering, which will work out much cheaper, or hiring external caterers. This will depend on whether the venue allows external companies to cater for events, the budget available, and also the food reputation of the venue. Work with your caterer to establish a menu that incorporates canapes, dinner, dessert, and any late-night snacks and ideally incorporates any theming too.

Entertainment

Festive entertainment can get your party started. Maybe your budget stretches to a DJ or band, or maybe your more intimate event have you dusting off your card games. Whatever your budget or venue size, games and entertainment are a great way to break the ice, get people laughing, and keep the energy high.

Some popular entertainment ideas include live performers such as comedians, jugglers, stunt shows, circus acts, or after-dinner speakers. You could also choose games such as casino tables, murder mystery, giant Jenga, air hockey, pool, arcade machines, fun fair favourites, or even giant Scalextric. Other hits include cocktail flaring demonstrations, wine tasting, and karaoke, while entertainment working the room often goes down well, such as table magicians, stilt walkers, and caricaturists. Fireworks always help a party go with a bang too.