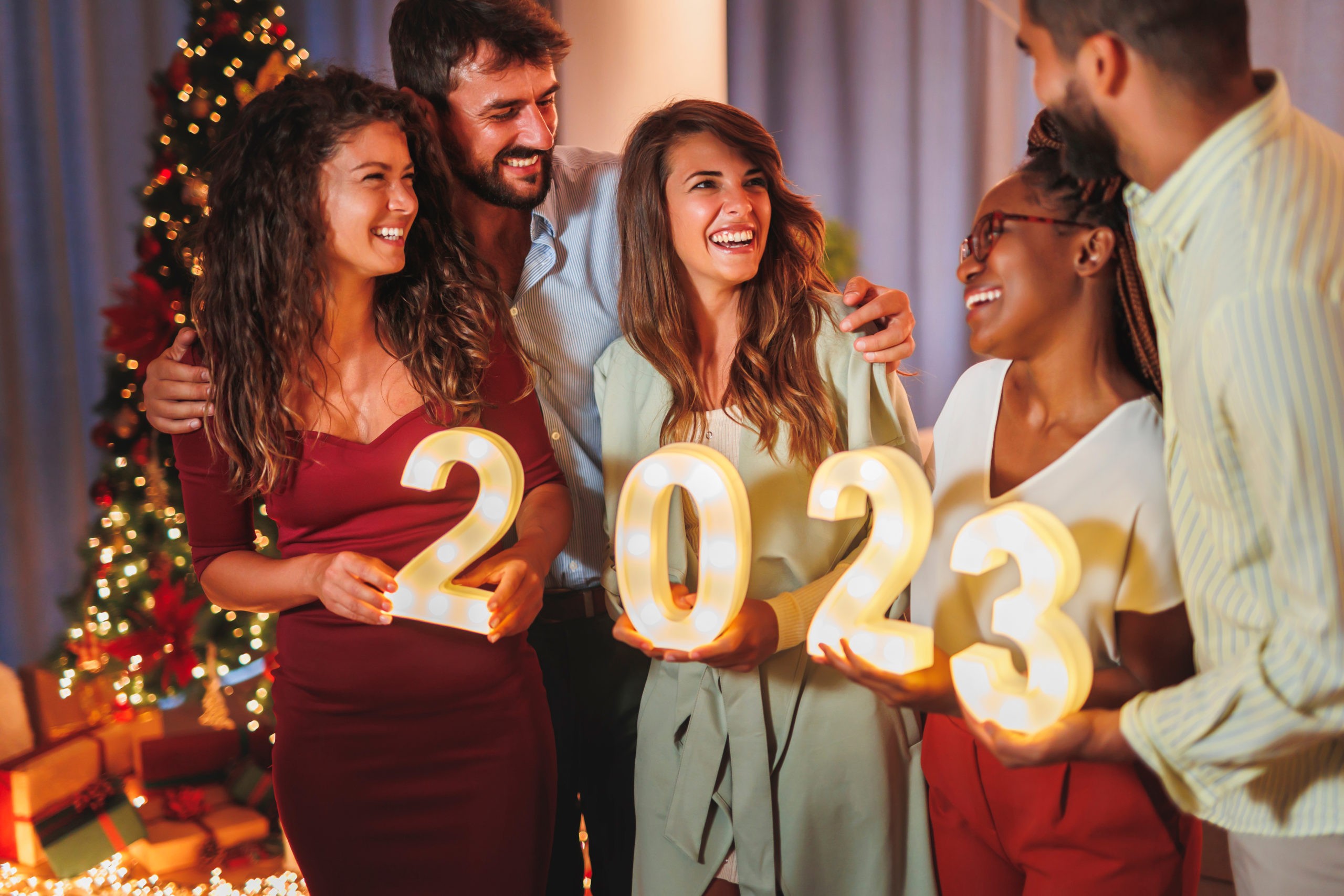 16 Nov

Tips to Organise a New Year's Eve Party

There's no better way to kick off the New Year than with a great party! But how do you organise one? It might seem a bit daunting at first, but there's plenty to plan and buy so you put on a great event. To make sure that the party preparation between the Christmas holidays and New Year goes well, we have gathered the most important points for New Year's Eve party planning

Venue

There are several things to consider when booking a venue – size, location, facilities, catering, parking, and accommodation to name just a few. Think about the type of party that you will be holding, who will be attending, and therefore what you need from the venue. It might be that your venue needs to be big enough for 40 people to have a sit-down meal or have good transport links. Be sure to pick a venue that ticks all the boxes for you and your guests!

Things you should consider when booking the venue
How many guests can the venue host?
Is the venue accessible to everyone?
Does it have WiFi set up for virtual components?
Will it provide sound equipment for music?
Does the theme you've chosen match the venue? For example, if you're hosting a champagne party, does the venue have an alcohol permit?
Schedule
Possibly one of the most important factors to consider for New Year's Eve is what will happen at midnight. From the countdown to the minutes immediately after, think about how you will mark the occasion and then create the perfect party atmosphere to celebrate a new year.
The best time to start a New Year's Eve party is around 9 PM. Since this kind of party will go on well until the early hours, you don't want to start it too soon or you'll run out of food, drinks, and things to do.  9 PM works well if you're just serving some light snacks or buffet food. But if you're planning on serving a sit-down meal, then you'll want to start a bit sooner. Around 8 PM would be more suitable if you're serving a three-course meal and don't want your guests eating too late.
Invitations
Make sure that you send your invitations out plenty of time ahead of the event allowing your guests to have the event in their diary and to make any childcare, transport, and accommodation arrangements. Include an RSVP date with your invitation and make sure that you give yourself enough time to confirm the number of guests and catering arrangements with your venue.
Entertainment
Similarly, to the venue, it is important that you choose the right style of entertainment that will suit the theme of your New Year's Eve party. For example, a symphony orchestra will not be suited to an exclusive black and gold party in a nightclub type of venue. If your event is ticketed, then make sure to find entertainment that will appeal to your target audience, therefore getting the tickets to sell. Keep in touch with the entertainment you have booked in the lead-up to the event, as it will help to reassure you that everything is going to plan.
Food and Drinks
The food you're serving can make or break your event. You want to come up with exciting, thematic ideas for your food and beverages, but you must keep your audience's dietary needs and preferences in mind. Depending on when your event begins and how big your venue is, you might serve small bites or arrange food bars rather than preparing for a full, sit-down dinner. If you're hosting a virtual event, consider what recipe kits or foods you can have delivered to your guests before the event.
When it comes to what is available to drink, be sure to offer a variety of alcoholic and non-alcoholic drinks and you might want to consider feeding your guests once midnight has come and gone to soak up the alcohol that they are likely to be consuming.
Champagne
It is tradition to celebrate the New Year with glasses of champagne, which is why you should make sure to have a few bottles cooling aside for you, your guests, and the staff members at your NYE party.
Music
You'll need to make sure you sort out some great party music too. There are plenty of options you can choose from including:
Professional DJ
Live band
Karaoke
DIY party music (Spotify/Apple Music Playlist)
Budget
Once you've decided on your theme and chosen a venue and a menu to match, you can come up with a more accurate budget for your event. Whether you're looking to raise money for charity, make a profit for your business, or simply cover costs, your budget will help you decide how much to charge for tickets.
Consider working with sponsors to help procure food or beverages for the event or approach local vendors and caterers who might consider negotiating a deal. If you're working with a tight budget, enlist your team to help you make your own decorations or look into buying materials in bulk to get a discount.